Welcome to Shoe Shine
Have you ever polished
your shoes without getting
your hands dirty?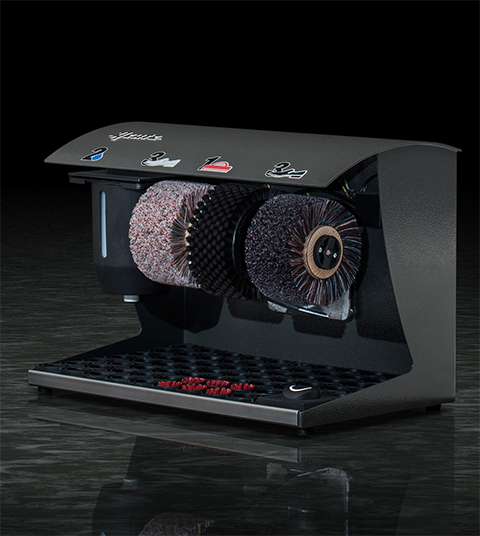 You know what I mean. You have to pick up the shoes with your hands, grab the cleaning brush to remove dirt and soil, then you have to apply the polishing wax or liquid, smear it all over your shoes and finally rub it off vigorously with a clean cloth just to get the right shine. It's such an exhaustive chore!
More important than that is most of us want our shoes shined at the last minute. What I'm talking about is when you're on you your way to work, or to that special event or even for that matter, the job interview. The last thing you want is to present yourself impeccably, only to lose it on dirty, lack lustre shoes.
Worst of all, handling and polishing dirty shoes is not only slow, it's dangerously unhygienic. Your shoes could have picked up nasty microorganisms such as salmonella, listeria or E.coli in public areas such as toilets. Just touching certain micro-organisms (such as salmonella) with your bare hands and then eating a sandwich with the same hands you've just used to clean your shoes is enough to get food poisoning. Why risk it!
Shoe Shine System
We now have a unique and rare shoe shining system that automatically cleans and polish your shoes in less than 10 seconds.
And the best thing is – there is no need to touch or handle your shoes with your bare hands. No risk of picking up pathogenic microorganisms, no messing around with wax and no need to exhaustively polish the wax off just to get the perfect shine. It's convenient, quick, easy and best of all it'll blend in easily with your home, office, or hotel environment with its unique design.
Here are the benefits:
Present your best in under 10 seconds
No need to touch dirty unhygienic shoes reducing the risk of food poisoning
Increase customer satisfaction in hotels and clubs
Increase staff presentation in corporate and government offices
Great for business
German technology and quality with unique design
Low running cost from as little as 0.04c per shine
Solid 3 years warranty for all models except home units (Easy comfort – 1 year)
Our systems are used in homes, offices and in major hotels around the world. Here's a link on some of our world-wide users.